My blog discusses a variety of ideas and methods of creating colorful art. I like to share new methods of painting or making interesting artistic pieces which I am always searching for. I enjoy using different mediums and painting various subjects as you can probably tell when looking at my website. Although I do not write a blog on a daily basis, I write my blog when I feel there is something interesting or new that other artists would like to know.
Category: Painting Wild Life
| 15 June, 2018 16:26
The white ibis with his curved orange/red beak and long lengs is really fun to paint.  The red/orange color  against the bird's white feathers is a dramatic contrast.  They are usually found in groups so I try to create paintings with two or more ibis.  You can paint them in the surf, at the beach, in a park with green vegetation, or flying.  Just be careful to choose a palette that will create a painting with colors that go well with the birds' red/orange legs and beaks.
This is my most recent ibis painting with a limited palette of lemon yellow, quinacridone crimson, burnt sienna, cerulean blue, and payne's gray.
"Ibis in the Waves"   Oil     12" x 12"
| 31 January, 2018 17:26
The white birds that live in Florida are a lot of fun to paint.  The artist can be creative in using various colors for shading the feathers that can be quite beautiful.  We have a lot of white egrets and white ibis that live in the mangroves and actually live among the people at the beaches and around Marco Island, especially on empty lots.  The ibis usually travel in groups and after a rain, will look for grubs to eat in the green lawns all over the island, 
These beautiful birds are not really afraid of people but will fly away if one gets too close to them. They like to visit Mackle Park, our community park that is in the central part of the island.  Mackle Park has a lake that attracts the birds, and also locals who enjoy the walking path around the lake.  
I will be painting at Mackle Park during our annual event called "Wet Paint Live" which is sponsored by the local Chamber of Commerce.  Each year local artists paint in various locations on Marco Island on one specific day which will be February 15th this year.  The location of each artist is posted in the local newspapers and many people drive around to visit the artists and see what they are painting...Each artist paints from 9am to 3pm and then frames the art and delivers it to the Rose History Auditorium by Marco Island Historical Museum.  These wet paintings will be auctioned off at 7pm to raise money for scholarships for local students.
I am hoping to find some birds at Mackle Park to put in my painting on Feb. 15th.  Here are some photos of our local birds.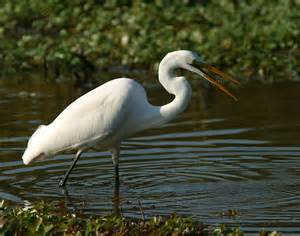 They are beautiful, aren't they!
---